Well I'm taking these a bit early but I just couldn't wait! :) this month has been pretty good. Thought I would lose more but that's ok. Still motivated! I have lost 13 pounds total and 5 1/2 inches off!
The pics below I was actually surprised by the changes the exercise is changing my shape and I'm happy about it!
Left is at 225.4 right is at 223 so only lost two pounds in between pics bit can still se differences thought I was working out for no reason!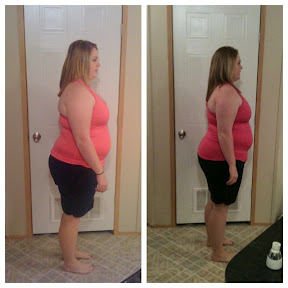 Counting calories+tae Bo+ Jillian Michaels shred it with weights+ elliptical. Is my what I've been doing!
U should hop over to Tish's blog she looks great! Her blog is on my side bar. I'm so proud of us! This is the longest I've ever stuck to anything. Just want to keep going!
Ashley