This weekend I ran/walked my first 5k! This time last year I said I would never run... Well I'm still not a true fan of running but it's good exercises and it's fun to race! Plus you get a T-shirt! my goal was 45 minutes. Yes slow to most but I have yet to do it that fast so I was hoping to make it at that. Well I finished in 46:12! I'm a little mad I didn't push myself a little harder to get the 45! Such is life and I'm already registered for my next race! Ha!
Mine and my Sis Kass race numbers!
My SIL Tish and our friend Michelle ran their first half marathon! And they lived to tell the tale:) I'm so proud of them!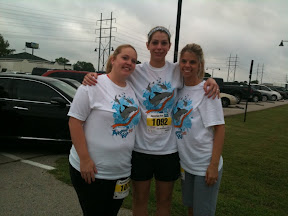 Me Kass and Jen before the race!
I don't have any after pics on my phone but we did finish! My Sis Kass kept pushing me to go faster and I kept making her see if we were last! :)
Ashley