You turned 8 months on October the 11th! You are getting so big and it makes me so sad at how fast the time goes by. We have had a blessed week with daddy being at home! You just seems happier with your daddy here. We went to the doctor for your third double ear infection since being moved to our home three months ago... but we did get to weigh you and you gaind 10oz. to 16 lbs. 10 oz. still a little runt ;)
You sit up so good on your own
Your favorite toy your book that sings to you
You still go through stages of wanting and not wanting baby food.
You LOVE puffs and your baby Cheetos's
You give sweet kiss
You clap really good now and it's the sweetest/cutest thing ever!
you have two bottom teeth
you play by yourself pretty good
Today you started trying to say mama, talk about melting my heart!
You LOVE Huck, and he loves you!
Our first trip to the pumpkin patch was a dream come true I have waited so many years, I prayed and hoped to bring you, our baby, to all the things I love about fall and God blessed us with you!
This was your second trip to the pumpkin patch with just mommy and daddy!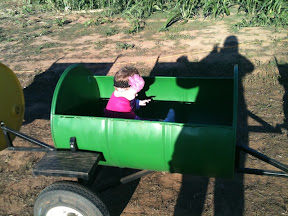 You couldn't actually ride the train this year but we got your picture in it any way ;)
You absolutely love animals! You got to ride a pony this month too! You laughed and giggled the whole time!
You are still changing my life every day and I can't wait to see what this next month brings and looking forward to our first Halloween!
Ashley